Take Political Action to Legalize Drug Test Kits
Let's create thoughtful, impactful change, together.
The Bunk Police is no stranger to the frustration of outdated laws, slow-moving government processes, and a misunderstanding of crucial public safety issues. Despite the U.S. losing over 110,000 lives to overdose in the last year, lifesaving drug checking kits are still illegal in some states. 
Even when changes are being made amongst public perception and education, the larger legal and governmental systems in place make it extremely difficult to ensure available, accessible, and universally legal drug checking equipment.
As overdose deaths continue to rise, we know something needs to be done… now.
The good news? YOU have the power to help make change.
We've put together these resources to help you learn about your state's legal status on drug checking equipment (DCE), harm reduction, and fentanyl test strips. We'll show you how to write up letters using Resistbot, along with copy-and-paste templates, personalized by state.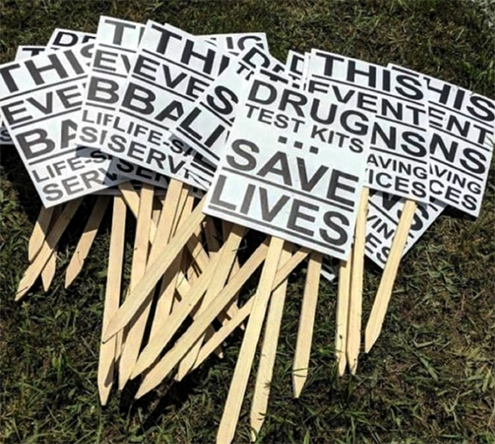 Spread the word, and join the movement towards saving lives.
---

Send the word RESIST to the bot on Apple Messages, WhatsApp, Messenger, Instagram, Telegram or by text to the phone number 50409.
Answer the questions the bot texts you, and in two minutes, you'll have sent a letter to your elected officials. You do not need to look up who your representatives are or write or call each of them. Resistbot does it all for you (it will even write the letter for you if you want) and delivers electronically, via fax, or postal mail.
Resistbot Makes Fighting For Your Cause Easier Than Ever
Resistbot is an AI-powered platform that facilitates and streamlines the process of communicating with political representatives, allowing users to effortlessly voice their concerns and support movements, by generating personalized letters through artificial intelligence. 
You can learn more about Resistbot in our deep dive article, or visit their website.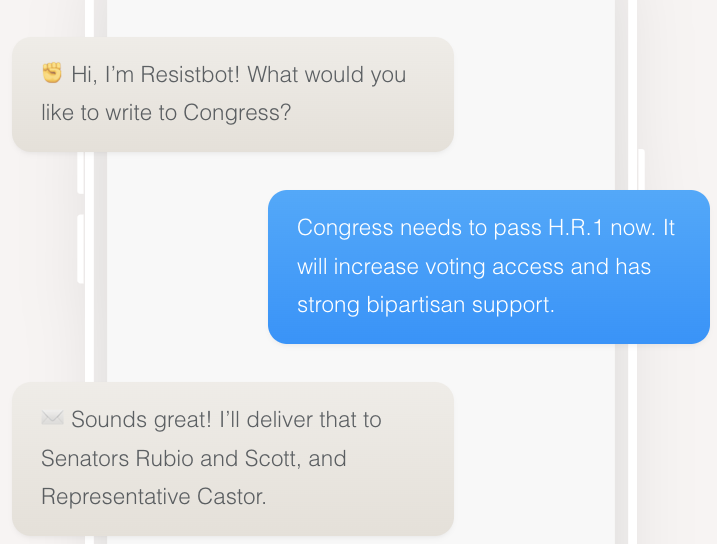 Here's How to Use Resistbot to Help Legalize Drug Checking Kits in Your State:
First, text "RESIST" to 50409 to connect with Resistbot.

Answer the questions Resistbot asks you, and send a news article, opinion post, or  bill that will explain your topic, along with your stance on the issue. Resistbot will then write a letter on your behalf! 

Review your letter and make any changes you see fit before selecting where to send your letter from a list of representatives. 

That's it! You've now contacted your elected officials and told them you support legalizing drug checking kits.

---
Letter Templates by State
We used Resistbot to help create these ready-to-go templates by state. Copy and paste, or use one of the provided articles to create your own.
Sending your letter electronically is great, but sending physical letters is an even better way for our representatives to tangibly see the need for the legalization of drug checking equipment. 
Intro (all states):
The urgent need to address the nationwide overdose epidemic, which claimed over 110,000 lives in a 12-month period, cannot be overstated. Over 66% of these deaths were related to fentanyl and other synthetic opioids. 
Harm reduction organizations, such as The Bunk Police, are actively working to mitigate this issue, by educating individuals on adulterated substances, and providing test kits and other resources to detect the presence of fentanyl and other dangerous adulterants. However, the legal classification of test kits as drug paraphernalia causes these types of harm reduction organizations, along with individuals, to frequently encounter obstacles that impede their ability to safely access these tools and, ultimately, save lives. It is crucial to remove drug checking kits from this classification, as they are a vital tool in preventing overdose, injury, and drug-related fatalities.
Body (by state):
Closing (all states):
The legal classification of drug checking kits as drug paraphernalia is a harmful policy that creates unnecessary barriers to the safety and protection of individual lives. By reclassifying drug checking kits as legal tools, we can make it easier for individuals to protect themselves from fentanyl poisoning, and reduce the burden of the overdose epidemic on our communities. 
Thank you for your time and consideration.
Looking for more ways to get involved?
The Bunk Police Street Team aims to empower our communities by spreading awareness about drug checking kits and the danger of misrepresented drugs. Our goal is to help as many people as possible avoid hazardous research chemicals, including fentanyl, "bath salts" (synthetic cathinones), and countless lesser known substances that can be found masquerading as popular recreational drugs.
Visit our Street Team page to learn more and apply!