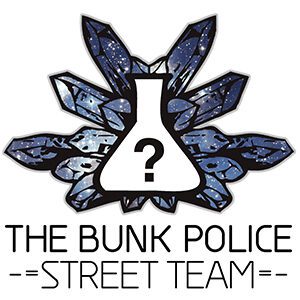 APPLICATIONS ARE NOW OPEN!
Have you always wanted to get involved in the harm reduction movement?
Are you a long time supporter of The Bunk Police's work? 
You might be a perfect fit for the
Bunk Police Street Team
!
What's the purpose of The Bunk Police Street Team? 
The Bunk Police Street Team aims to empower the worldwide substance-use culture by spreading awareness about test kits and the danger of misrepresented drugs. Our goal is to help as many people as possible avoid hazardous research chemicals including fentanyl, "bathsalts" (synthetic cathinones), and countless lesser known substances that can be found masquerading as popular recreational drugs.
Tasks might include: 
Handing out cards and hanging posters detailing Bunk Police resources

Posting about The Bunk Police on social media and other online platforms 

Working as a volunteer for The Bunk Police at music festivals or other events 

Attending online Street Team meetings 
What kind of team members are we looking for? 
We are searching for committed, knowledgeable, and enthusiastic candidates to represent us all across the United States. 
Our ideal team member: 
Has experience utilizing our test kits, or has a basic understanding of the importance of reagent testing

Is familiar with and motivated by the principles of harm reduction

Is excited to participate and put effort into this mission regularly, or is hoping to move into a leadership role within the Street Team

Is a self-motivated, inspired individual who will help craft and expand the harm reduction community 
Requirements:
Must be 18 years of age or older 

Must reside in the United States (for now)
What does the application process look like? 
We've designed an application process that reflects what we hope to achieve with our Street Team. Our mission is not an easy one, and we hope to utilize our Street Team to legitimize harm reduction in even the most unexpected spaces. For this reason, we are only seeking serious, intrinsically-motivated team members to represent us. The application process could be viewed as a bit more thorough than other volunteer programs, but we know this will attract the strongest individuals to help empower this cause. 
Application Steps: 
Fill out the application form provided at the bottom of this page. 

Our Street Team Coordinator will review your application, and respond as soon as possible.*

If approved, you will receive an email with The Bunk Police Street Team Manual, along with a quiz to ensure your understanding.

If you pass this quiz, we will schedule a short phone/web interview to get a final feel for you as a potential team member. 

You will receive an email either accepting or denying your position on The Bunk Police Street Team. 
*Due to our rolling application process and the large number of applicants already received, response times are not guaranteed within a specific timeline. We will get back to you as soon as possible with next steps, or if we've decided to pursue other candidates. Either way, you will hear back from us! We appreciate your patience as we navigate this process!
Is this position paid? 
The Bunk Police Street Team is an excellent opportunity to gain volunteer experience with a distinguished harm reduction organization, but this is an unpaid, volunteer position! However, as milestones are reached, we will have ample rewards for your hard work and dedication. This could take the form of official Bunk Police merch, raffles for big-ticket items and event tickets, coveted volunteer positions at music festivals, and specialized pins reflecting the ranking system in our Street Team discord.